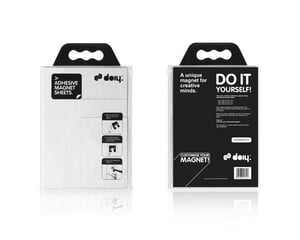 €

11.90 - On Sale
¡Olvídate de los imanes típicos y aburridos!
DOIY presenta el "Adhesive Magnet Sheets".
Un producto nuevo que te permite crear imanes a partir de tus fotos.
Sencillo, divertido, rápido. Imanta tus fotos en menos de 30 segundos.
El pack se compone de tres láminas flexibles, adhesivas e imantadas con tamaños estándar de foto (26x18 / 19x13 / 15x10 cm), para que puedas crear tus imanes manteniendo las dimensiones de tu foto, o recortando su silueta.
El Adhesive Magnet Sheets es un producto original que también puedes compartir. Los imanes vienen dentro de un packaging reutilizable para que los puedas personalizar con las fotos de tus amigos y regalárselos en su embalaje original, haciendo de tu pack un regalo único.
Forget about traditional and boring magnets!
DOIY presents the
"Adhesive Magnet Sheets". A new product that lets you create customized
magnets with your photos. Easy, fast, entertaining! In less than 30 seconds, all your photos will become magnetic!!
The pack is composed of three flexible adhesive magnetic sheets of standard photo sizes (26x18 / 19x13 / 15x10 cm). Magnets can be
customized to any shape, form, or size. The adhesive magnets are an original product that is a perfect do it yourself gift. Best of all, you can use the package as a gift bag.